This application project is a redesign of the app "Meine Apotheke". We designed it completely new and changed the content to something that made sense and is intuitive to use.
The heart of the system is a store where you can search for drugs and order them – or optionally pick them up from local pharmacies. Product images support the purchasing process. The entire ordering process has been simplified so the user don't have to think long about the next step.
In terms of content, the app is characterized by a very user-centered communication and thus does not serve purely as an online store. The goal was to cover all the needs of a pharmacy, including the ability to create an individual intake plan and to quickly locate nearby emergency pharmacies.
A clear structure was used for the navigation, ensuring a simple and intuitive flow that is easy to use. In order to guarantee a holistic, coherent user experience, additional illustrations were included to create an appealing character.
User Journey of the testing with the original app: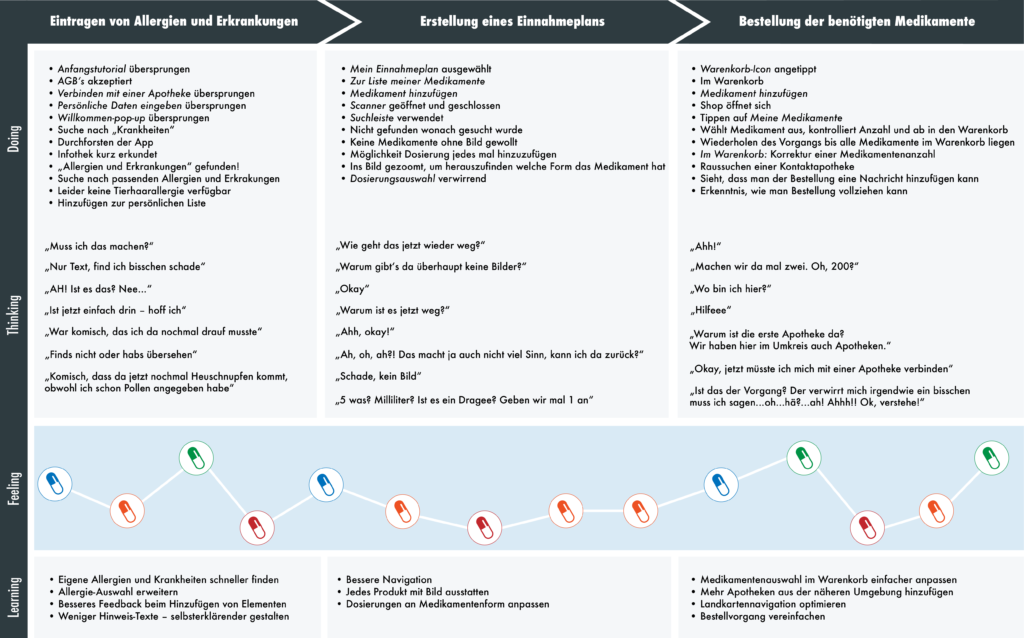 The design principles are as followed:
local
A healthy lifestyle also includes interest in offers from local retailers.
target-oriented
Users want to reach their destination without many obstacles, so they don't lose time or nerves.
social
Social skills play an important role in dealing with people and should also be integrated into a pharmacy app.
intuitive
The functions should be clearly structured and intuitive.
clearly arranged
An attractive design that is pleasant to use helps the user to find his way around easily.
Project partners: Lucie Wittmer, Vanessa Sigg
Supervised by: Rebecca Schellhorn